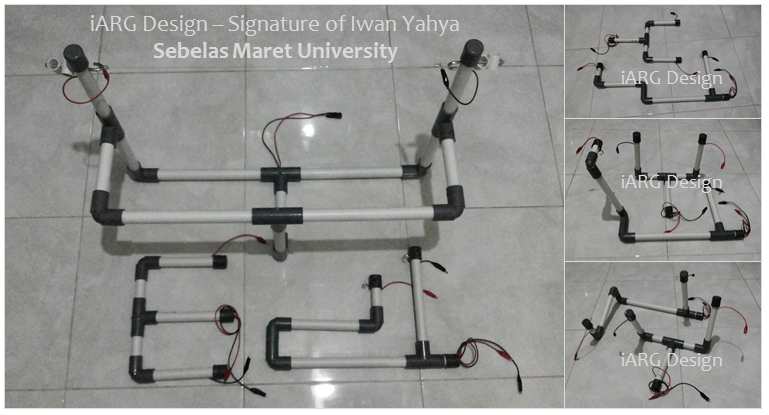 Dear Student and all,
Karena kebutuhan pekerjaan kreatif dan riset di iARG saya telah terdorong untuk merancang alat sederhana untuk memotong foam maupun sponge buatan sendiri. Seperti yang tampak dalam gambar di samping, tool yang saya buat itu memiliki keunggulan terutama dalam hal rancangan frame yang fleksibel dapat diatur dalam berbagai bentuk dan orientasi. Fitur yang demikian sangat penting dalam pekerjaan yang saya lakukan.
Poin pokok yang hendak saya kemukakan adalah, sangat penting untuk memiliki kreatifitas guna memenuhi kebutuhan secara mandiri. Kenapa demikian? Anda atau siapa saja dapat membeli dengan murah peralatan sejenis dari berbagai tempat. Yang jadi soal adalah, terkadang peralatan yang tersedia di toko tidak secara serta merta memenuhi keperluan khusus dalam proses bekerja kita. Pada titik seperti itulah kreativitas dan dorongan untuk menghasilkan karya yang berbeda dengan siapa pun kompetitior kita dapat ditumbuhkan.
Seperti yang Anda lihat, tidak ada barang mahal dalam rancangan tool yang saya buat. Anda bahkan dapat mengerjakannya sendiri (do it yourself, DIY) dari pipa PVC bekas. Bahkan jika mau, pun universal adaptor dapat dirangkai sendiri. Jika pun tidak, universal car and home adaptor dapat digunakan sebagai catu daya. Harganya sangat terjangkau. So, jangan berhenti untuk menjadi kreatif dan memiliki prilaku berpikir dan bekerja cerdas. Semangat..!